This is just a sample of the many kitchen related antiques we have sold.
Click link to see other Sales Archive Pages on this Site.
We can help you sell quality Antiques Contact Us.
Special Note Concerning Prices Seen Below:
Most prices seen reflect actual sale results from this website.
Prices seen span a long period of time and may not reflect current values. Some are selling for more, many now sell for less.
On some pieces you will see no price, or a price range, with or without an explanation. The reasons for that are discussed on the FAQ page.

For further info on consigning / selling your antiques with us please see our FAQ page, the Appraisal / Selling Page and the Selling Your Collection Pages.

Our current offering of Antiques for sale are at our sister Website Patented-Antiques.com.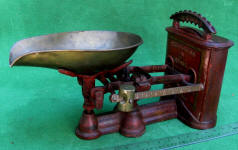 Perfection # 2 Size 4 lb. Candy Scale by American Machine Co. Philadelphia
This is an unusual general store candy scale. The overall condition is very nice and it is operational. The patent info "Pat. Feb 3, 1886" is on the leg bracket. The Perfection name and other info are cast into the front. It is in original red paint with a lady decal on the back side. Shows just minor wear. The brass pan measures 15" x 8 3/4" and 4" deep. The scale frame measures: 13" L x 7 1/2" W x 10 1/2" T. A nice display piece for your Country Store setup or home decor. The scale weighs approx. 20 pounds. Nice!!
Good + . . . . . $275.00 SOLD!!
Shak-Rite Electric Cocktail Shaker
The metal shaker is marked with a 1919 patent. The tag on the front says Patents Pending. It gives a location of Rockford ILL. The serial # is 1698. A Google search using the name Shak-Rite seen on the front plaque came up empty. Further searches found an image of one on a poster for a cocktail shaker exhibition / collectors meeting. I found a picture of that one on display at that exhibition on its own pedestal under glass. It seems it is a pretty rare mixer from what I have learned in speaking with a few people.

The lever seen on the front, incorporated into the plaque, is the timer. You set that to the desired time and then push down the lever and it begins to rock back and forth mixing up your favorite cocktail. This feature is working. There is also a rheostat on the side, but that does not seem to be operable, and is a all or nothing affair. After pushing the main switch it does run, but at times needs to be coaxed along. I believe this is an adjustment in the transmission inside. The main crankshaft tends to hang up on the upper most part of the full revolution it must make. I adjusted that a couple times, but in order to do that you have to take the entire thing apart and play with the adjustments found on either end of the tranny. It needs to be played with a bit more. The overall condition is nice. The paint is about 90% and the chrome is pretty good and will polish out to be better. Very Nice and Very Unusual!!
Good + . . . . . .$1000.00 SOLD!!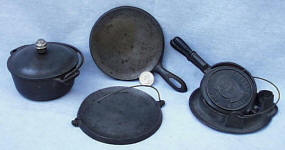 Favorite Piqua Ware Salesman Sample / Toy Cookware Set
This is a legit and an early toy size cast iron cookware set. It is a very unusual set as well. Favorite was a major competitor to Griswold and hailed from Piqua Ohio. This set is probably as rare as the good Griswold set, and a world better than any Wagnerware sets you see offered. Different!
Good + . . . . .$1950.00 SOLD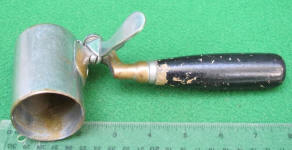 Rare Ice Cream Scoop
This unusual scoop is not in Smith's book. I could find no other reference or info on it. It is much earlier and different from somewhat similar ones you might see offered for sale. This came from an auction in PA and was consigned by a fellow tool dealer we know. The inside of the heavy nickel over brass cylinder is tapered. First thought is so that the ice cream would fit into a cone better, but that would be backwards when it came out. Different. Scoop it up!!
Fine . . . . . SOLD! $500.00 - $2000.00 Note: This scoop was bought in the hey-day over 10 years ago for $800. Offers approaching 2K were turned down at that time. It was later sold for $700 and a $100 loss. There is a lesson to be learned in there!
United Banana Split Ice Cream Scoop
Not the typical Gilchrest model. Much harder to come by. Different.
Fine . . . . . $475.00 SOLD!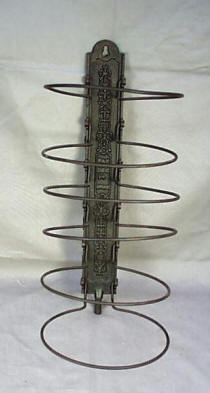 Patented Folding Cast Iron Pie Rack
This is one of the nicest and most unusual patented pie racks we have ever seen. The decorative casting is wonderful and all 6 of the racks fold up. The look & feel of this piece is super. We have several of the more typical twisted wire varieties for sale elsewhere on this site, but this is a piece that you are not likely to run into again.
Good + . . . . .$395.00
SOLD!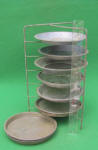 Wireware Pie Rack w/ Pie Pans
The sort of thing you use to see in diners and bakeries. No provision like a glass cabinet to keep pests or flies away.
Good + . . . . .$75.00
SOLD!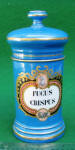 Fucus Crispus Apothecary Jar
The bottom is marked "Drogueria De La Profesa J. Labadie Sue-res C-ia Mexico" or something to that effect. A Google search turns up plenty of info on Fucus Crispus being a type of plant / seaweed with different medicinal uses. There is also some info to be found on the maker name printed on the bottom. I believe it dates from near the turn of the century. It is not new, or a reproduction.
Good + . . . . . $295.00
SOLD!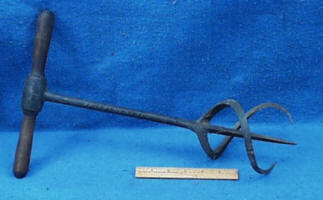 Patented Sugar Devil / Fruit Auger
This wrought iron sugar devil or fruit auger has a great look and great patina. These were used to break up fruit or packed sugar in casks or barrels and there are several different versions that can be found. This one has a patent date in the late 1800's on the shank. You just do not see this sort of Americana anymore!
Good + . . . . .$125.00
SOLD!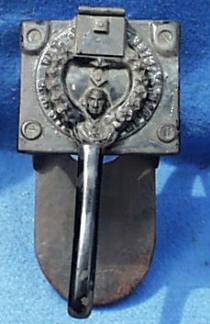 Patented "George Washington" Lemon Squeezer
This is by far the most presidential and most graphically appealing of all lemon squeezers! George's face is prominently cast into the top, as are 13 stars and the patent info. It took me a while to find the 13th star, but there it is right over his head. The patent date is July 15, 1873, which may or may not have anything to do with George's birthday, or wedding anniversary, or some important date having to do with the Revolutionary War. Perhaps it commemorates the battle of something, or the birth of one of his many offspring! Or the first time he had lemonade....... Or maybe it was simply that the fellow who manufactured it, one G. A. Williams of New York, patriotically identified his own initials with those of the father of our country. But all joking aside, this freestanding lever-operated lemon squeezer is a great piece of cast iron and is in excellent condition with no casting problems or other defects, and still retains a good portion of its original black japanned finish.
Good + . . . . .$295.00
SOLD!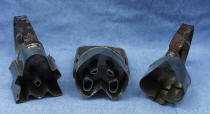 The John Ladd Clover Ice Cream Scoop / Mold
This rare and unusual piece of ice cream memorabilia did not make it into Smith's book on scoops. I'm not sure how many different shapes or forms these came in, but in addition to the pictured club, I also own the spade and diamond along with some totally different shapes having nothing to do with the symbols on decks of cards. As can be seen in the pictures, there are identifying marks on the top of the handle and reference to a patent pending. I will sell any or all of them for the same price. Here is an update, I was sent an ad out of a magazine for this device, which pictured those offered, and it appears that they were made special for use in fraternal and social organizations such as the Elks, Moose, Masons and others. In the picture in this ad there was not a heart shape shown, thus explaining why no one has found one as yet.
Good + . . . . .$495.00
SOLD!

Quincy Hardware Mfg. Co. Mechanical Popcorn Popper
Designed with an eggbeater-style geared wheel to keep that basket moving back and forth, this super unusual mechanical popcorn popper was granted a patent on May 24, 1892. More than likely this great invention was thought up by someone who had developed a bad case of tennis elbow from shaking those typical non-mechanical type ones over the fire. It hails from Quincy, IL and the same company also manufactured a slightly larger model, which I have heard referred to as a coffee bean roaster. If you need that larger sized one let me know, because it is also available as well. This one is in nice condition with two very old small repairs to the wire basket which do not detract--if anything they add to the charm and remind me of a darning repair stitch but using fine wire instead of thread. This is a rare piece at a price that will leave you enough money to buy bagfuls of that spendy "kettle corn" they are selling at all the shows these days---but hurry because I think it's on it's way out already!
Good + . . . . .
SOLD!
$50.00 - $600.00
Note: I have bought these in the past for as little as $20.00. During the hey day dealers were asking $500 or more for them. I seriously doubt one would bring anywhere close to that listed on eBay today.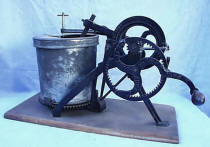 The Spaulding Food Chopper
This is a very unusual chopper and far rarer than the Starrett chopper that is typically found or seen. Mr. Spaulding took out several patents for this device, and the action is so much more refined than what Mr. Starrett came up with. First of all it not only goes up and down, but the arm also moves the cutter in a sweeping or slicing motion at the same time. In addition it also incorporates a scraper inside the tub to help feed the material back toward the cutter. Graphic, fun, and a highly unusual form. All that is missing is the hygienic sterilizer feature.
Good + . . . . . . $895.00
SOLD!
Note:
Given the rarity of this compared to the Starrett Food Chopper below, it was probably undersold. Never seen another!!

Starrett Mechanical Food Chopper
These can be found in a number of sizes, from 1/2 gallon to monster 8 gallon institutional size ones or more. This is one of the smaller sizes. The condition is nice!!
Good + . . . . ..$295.00
SOLD!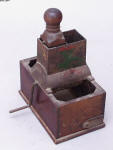 Unusual Double Hole Cast Iron & Walnut Nutmeg Grater We've handled a lot of nutmeg graters over the years, but this is the first of this model that we have ever seen. As with many categories of antiques and collectables, collecting nutmeg graters was a lot of fun and quite a challenge. They demonstrate a learning curve in the collectibles field, as I can still remember my first Edgar, and my second and third, and I was still thinking of them as rare, and still did not know that there were at least three different versions available. After a time it seemed as though we just kept on seeing the same 20 or so different nutmeg graters and then the minute variations among them began to take on meaning. Soon the rarity factor amongst these became blurred, and after a period of time we realized that we rarely or never had the opportunity to buy a truly new or different one and something was lost. It was found again when we walked up on this at 5:45 PM after a long day at a show with little to show for our efforts---then Bingo! I guess that is one big reason why we all still keep at it. It is hard to see in the picture, but the bottom of this tabletop nutmeg grater is walnut and the top is cast iron with remains of original red and green paint. The upper portion consists of two separate chambers and a wooden plunger to hold the nutmeg against the surface of the revolving grating drum. We have seen several of the biggest and best collections of these unusual devices, and this one was not in any of them. It is a good one!

Good + . . . . . . $895.00 SOLD!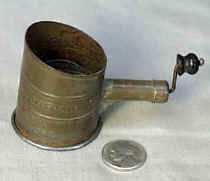 Hunter's Toy Sifter This is the little one, the toy or salesman sample version of the classic Hunter tin flour sifter. Measuring just 2 1/4" high it was made exactly like the full size model. It is stamped in relief "Hunter's Toy Sifter Pat. May 16 71 Apr. 7 74 Buy a Large One". According to advertisements of the day this was a promotional item offered for free (plus 2 cents postage!) to anyone who mentioned where the ad was seen, and was meant to show how the large sifter worked and also to "afford amusement to any little girl". This example is in very nice overall condition noting a very small tear in the mesh screen. This is the first of these we have ever had the pleasure to offer for sale.

Good + . . . . .$295.00 SOLD!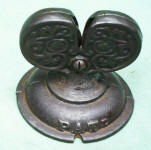 Patented "Mickey Mouse" Knife Sharpener This Victorian era cast iron knife sharpener is a great design and has great form. There are plenty of knife sharpeners around, but few with the presence or graphic look this one has.

Good + . . . . .$125.00 SOLD!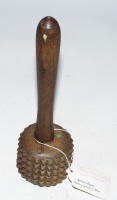 Patent December 25 Yellow Ware Meat Tenderizer This is in nice condition. An odd choice of material for a meat tenderizer, but it was awarded a patent, and on Christmas Day no less. Merry X-Mass.

Good + . . . . .$125.00 SOLD!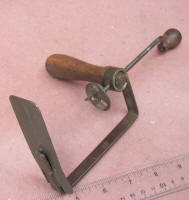 Potato Chip / Vegetable Ribbon Slicer This is a neat little device. It works well with potatoes, but would also work on apples or other similar fruits and vegetables. It cuts a thin long ribbon of the vegetable for frying or other cooking. You just do not see this sort of early Kitchenalia / Americana anymore!

Very Good + . . . . . . .$95.00 SOLD!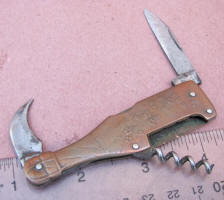 Champaign Bottle Corkscrew
This is an interesting little antique pocket corkscrew from a Hofbrau in Denver Colorado. The decorated sides depict a pair of cupids, angels or similar. In addition to the corkscrew it has a foil ripper, and a knife blade. The knife blade is marked with what looks like D. Heyser, DhLigs.
Good + . . . . . $195.00 SOLD!!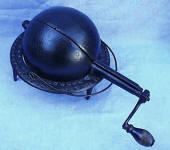 The Cannonball Coffee Roaster
This revolving coffee roaster is a Patented idea that is commonly referred to as the cannonball. It comes in 2 sizes that I know of and both are very hard to find complete. They are oftentimes missing the base or ring. This one is complete.
Good + . . . . .$795.00
SOLD!
Thayer Patent Combination Tool This is by the same fellow who patented the famous Thayer Patent Hammer. I have seen ads for this describing the 8 different functions but seem to not be able to remember them all. Trivet, meat tenderizer, stove lid lifter, candlestick, pot lifter, and ?????

Very Good +. . . . . . .$65.00 SOLD!
19th Century Sugar Devil
This wrought iron sugar devil or fruit auger has a great look and great patina. These were used to break up fruit or packed sugar in casks or barrels and there are several different versions that can be found. This one has a patent date in the late 1800's on the shank. You just do not see this sort of Americana anymore!
Very Good + . . . . . . .$225.00 SOLD!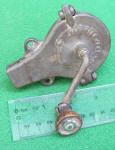 "The Bellows" Patented Nutmeg Grater
This variation of the Bellows nutmeg grater is designed to screw to the Hoosier cabinet or other kitchen cabinet as opposed to clamp on like the one above. Same patent just a different means to hang it. It is operable and there is no damage or cracks. An interesting piece of genuine Americana from the past.
Good + . . . . . . $195.00 SOLD!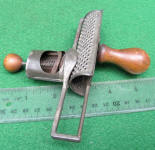 Patented Edgar Nutmeg Grater / First Model
The Edger is a very common nutmeg, but this is a pretty hard to find 1 model variation w/ cast iron frame. Note how the upper slide portion is cast iron and has the patent info cast into it. Later versions have just bent wire in this area. You will see 100 of those later models for every one of this earlier version. That and the condition of this one is super!!
Fine . . . . .$95.00 SOLD!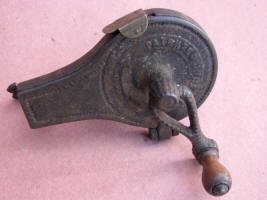 "The Bellows" Patented Nutmeg Grater
This cast iron nutmeg grater is a pretty unusual 19th Century antique kitchen gadget. This style Nutmeg grater is commonly referred to as "The Bellows" because of the shape. There are several different variations that can be found. One has no clamp, and screw holes so you could attach it to your Hoosier cabinet or table. Anther has a different style handle, yet another has a different style latch to close it, etc.

It is a super nice casting, and the open heart like handle design is great. It is operable and there is no damage or cracks. It is written that in olden times Nutmeg was used a lot to hide the rancid flavors of bad meat. That is given as the reason for the pocket style ones you encounter. Nutmeg is used today to flavor baked goods, soups and stews. An interesting piece of genuine Americana from the past.
Good + . . . . . .$295.00 SOLD!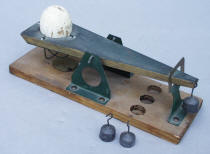 Patented Egg Scale
Different & Nice!!
Fine . . . . .$85.00 SOLD!
Patented Egg Scale
Different & Nice!!
Fine . . . . .$75.00 SOLD!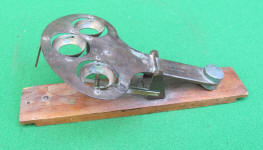 Patented "Speedy" Egg Scale
Rare & Nice!!
Fine . . . . .$325.00 SOLD!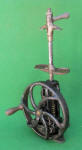 Mechanical Milkshake / Cocktail Shaker
Bolt it down, load it up, and start cranking out some of the finest cocktails or milkshakes possible.
Good + . . . . .$1295.00
SOLD!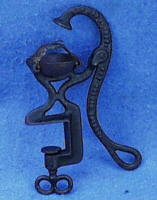 The EZY Raisin Seeder
Patented on July 21, 1895, this unusual version of a raisin seeder is one of the most dainty and fragile of designs. The patent information, along with the sage advice "Scald The Raisins", is cast into the curvilinear lever arm. The idea with these devices was that before the era of the Thompson Seedless, you literally had to squeeze all those pesky little seeds out of your raisins before use. There were a number of different versions and variations produced, with this style being one of the harder-to-find and certainly one of the most graphically appealing. There were many patents pulled for various seeders up until the advent of seedless grapes, at which point the lucky housewife got to throw these devices into the back of the drawer, where I found this one last year. Countless Yankee inventors could now redirected their attentions, searching for the next wave of labor-saving kitchen inventions. Those that embraced the next new technology of electricity were destined to succeed and prosper, while the gear-and-crank guys got left behind and invariably were soon forced out of business. Kind of like what's happening in today's world. This example of yesteryear's necessity has nearly all of its original black japanning, and also has the receiving cup which is often missing. It is all original and in very nice condition. Three of the seeding wires have come undone or are broken, but this is merely cosmetic to the overall condition.
Good + . . . . .$395.00
SOLD!
Antique Mechanical Nutmeg Grater
Nutmeg graters are a fun collectible. This one is typically referred to as the stovepipe because of its shape. They use to turn up more often, but nowadays seem genuinely hard to find.
Good + . . . . .$195.00
SOLD!
Early Patented May 7th 1896 Raisin Seeder
We call this one the running horse seeder, and while it may not be the most mechanically involved of these unusual devices, it is certainly one of the most graphic and interesting designs that was introduced. Devices such as this were necessary back before the Thompson Seedless Raisin was developed, and the need to accomplish such a task was finally and I assume thankfully put to rest. Variations on the theme abound, and in the end designs such as those put out by Enterprise that literally squeezed the seeds out between rubber rollers won the day as they are as common today as a bunch of grapes are. Ones such as this, and the Magic by Antrim, and a few others are a different story though, and are very hard to find.
Good + . . . . .$495.00
SOLD!
The Triumph Patented Pie Lifter
The condition of this early pie lifter is superb, and the name Triumph and the patent info of April 14th 1868 stamped on the handles is clear and strong. A collection of pie lifters showcasing their seemingly infinite variety of styles and designs makes for a great display hanging on a country kitchen wall!
Good + . . . . .$75.00
SOLD!
Patented Wood and Tin Mechanical Nutmeg Grater
Unusual Nutmeg graters are certainly getting harder and harder to find, so we are happy to be able to offer this one which came directly from a New England estate. This example is in excellent condition and works perfectly---just pull back on the spring loaded wooden knob to insert the whole nutmeg, then grate away! I cannot make sense of the numbers "1882" that are neatly painted in gold on the tinware body---it looks to be a date, but the grater is stamped with the actual patent date of Dec. 25 '77, so the 1882 number must refer to something else. And I have never seen this grater with a black painted body so I assume that was done by the previous well-intentioned collector. It too was done very neatly and does not detract in the least.
Good + . . . . .$395.00
SOLD!
Unusual and Ornate Victorian Era Cast Iron Nut Cracker
This exceptional piece of cast iron is unmarked as to maker or patent info. It has a great look and feel with the cut-out base design it has, and it is a wonder that the manufacturer did not want this info to be a prominent feature of the piece. It is set up to either be set on the table or mounted on the wall. A beautiful, damage free example of a very tough piece to find.
Good + . . . . .$495.00
SOLD!
Child-size Wagnerware Cast Iron Waffle Iron
Measuring a mere 3 1/4" across, or 4 3/4" with the base, these child-size waffle irons are a favorite of the forgers, and you see far more of the fake ones with the short stubby handles than you do real ones like this example. The condition is very nice with smooth castings and clearly marked with a patent date of Feb. 22, 1910 Wagner and Sidney, O. The other telling feature of the fake ones is the way the bale is done.
Good + . . . . .$95.00
SOLD!