This is just a sample of the many antique tools we have sold.
Click link to see other Sales Archive Pages on this Site.
We can help you sell quality Antiques Contact Us.
Special Note Concerning Prices Seen Below:
Most prices seen reflect actual sale results from this website.
Prices seen span a long time and may not reflect current values. Some are selling for more, many now sell for less.
On other pieces you will see no price, or a price range, with or without an explanation. The reasons for that are discussed on the FAQ page.

For further info on consigning / selling your antiques with us please see our FAQ page, the Appraisal / Selling Page and the Selling Your Collection Pages.

Our current offering of Antiques for sale are at our sister Website Patented-Antiques.com.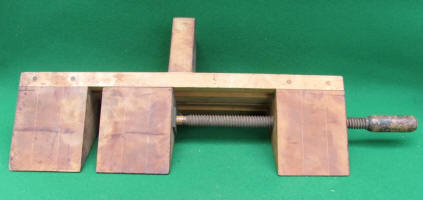 Early Mitre Jack
This is a very large miter jack It shows just minimal wear on the working face. It is close to 30" long and each angled face is close to 9" tall It looks like a previous owner has removed a prior owners name on the ends.
A nice piece.
Good . . . . . $75.00 SOLD!!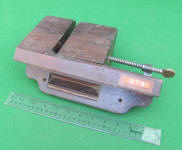 Early Small Miter Jack
This is a very small miter jack. It shows just minimal wear on the working face. It is a well made tool with steel threaded adjusters. It is just 12" long overall and each angled face is about 6" tall.
. A nice piece.
Good + . . . . . $90.00 SOLD!!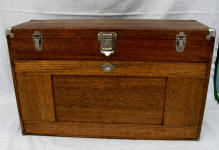 Gerstner Model 52 Machinist Box / Tool Chest
This Gerstner Model 52 Oak 11 Drawer Machinist Tool Box / Chest is 26" long and in very nice condition. It has been lightly used and the felts are original and nice. The drawer bottoms are metal. There is a serial # inside on the bottom. The original finish is very nice and a few shades lighter than the pic shows. A nice piece.
Fine . . . . . $495.00 SOLD!!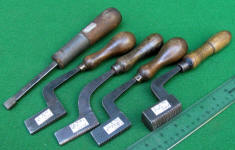 Plane Makers / Gunsmiths Floats
Different trades used this form of woodworking tool. They were used to clean out and shape plane throats and different areas of gun stocks like for the barrel and action. The bottom four are a matched set and the top one is a mix-match.
Good . . . . . .$80.00 / LOT SOLD!!
Hand Vise w/ Tools
Unmarked but probably by Goodell Pratt. Nice Rosewood handle. Jaws are nice. Tools in handle as seen in the pics. Nice!!
Good + . . . . . $65.00 SOLD!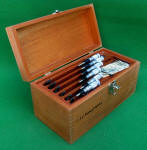 Brown & Sharpe - 0 to 6 Inch Micrometer Set in Box
This 6 piece outside micrometer set is complete and pretty nice. 0 to 6 Inch Range, 0.0001 Inch Graduation. They have a friction thimble and carbide tipped face. The enamel finish is near perfect on each. 4 smaller sizes have a spindle lock. Includes 1 to 5 inch standards and original wood case that has some finish loss. Like new!!
Fine . . . . $395.00 SOLD!!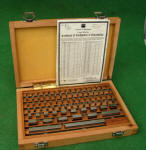 Brown & Sharpe Calibration Gage / Gauge Block Set in Box
This set is complete and very nice. .050 to 4 Inch Range w/ certificate. Like new!!
Fine . . . . $295.00 SOLD!!
Blacksmiths / Carriage Makers Traveler
An early and odd traveler. Looks to be homemade!!
Good +. . . . . $25.00 SOLD!!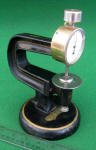 Randall & Stickney Indicator / Micrometer
This R & S Watchmakers Bench Top Dial Micrometer was patented Aug. 21, 1883 and made by Randal and Stickney of Waltham, Mass. It is in excellent condition. It The dial reads in thousandths of an inch. These types of micrometers were mostly used by factory workers as inspection tools for mass produced parts. The table can be adjusted up or down so items could be checked by setting the dial on zero with a control piece and allowing the variance to be read on the test pieces. It is made of cast iron with nickel plated parts. It has the original paint with gold pin striping and label. Part of the label decal is missing. It measures about 7-3/4 inches tall and has a 4-1/4 inch base. It weighs about 4 lbs. It has serial number 10,851 stamped on the bottom.. Nice!!
Fine . . . . $75.00 SOLD!!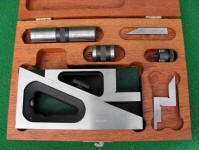 Lufkin # 901 Planer Gage
Little used. Nice overall condition noting the owner put his name below the maker mark.
Fine . . . . . $50.00 SOLD!!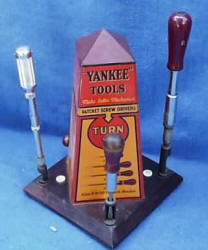 Yankee Screwdriver / Drill Countertop Display If condition were to win prizes, this piece would get the Gold Medal. It is so pristine and bright that it is breathtaking. Pieces of this caliber and quality appear rarely and disappear just as quickly. This opportunity will not repeat itself anytime soon so.
Good . . . . . .$1250.00 SOLD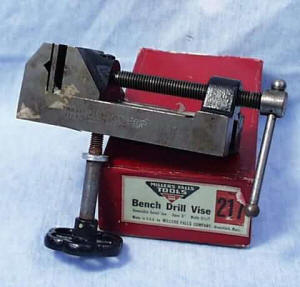 Millers Falls #217 Machinist Vise in Original Box
There is nothing about this one that you will not like.
Good . . . . . .$55.00 SOLD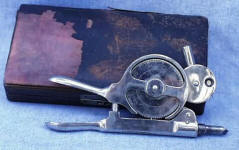 Greeley Speed Indicator
Not all speed indicators were created equal. This is a rare and unusual model that is seldom found. Do not confuse this with the typical Starrett or other common models you see all the time. Those in the know know, and those who do not overprice their common ones.
Good . . . . . .$395.00 SOLD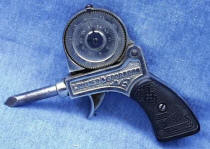 Litner and Sporborg Pistol Grip Speed Indicator
This is one of the rarest and most desirable speed indicators that was produced during the later part of the 19th century, and the condition of this one is superb. No collection of these interesting and graphic devices can be considered complete without the full set of these in the middle. This example has a serial #of 866 stamped into the bottom of the grip, and the Gutta-Percha grips are flawless as is the patent info and inventors name that is engraved into them. The 4 Patent dates range from 1889 thru 1894. On the other side is the inventors name Harvey Hubbell. The nickel plating is 98% + and there will be no disappointments with any aspect of the condition of this piece, truly a top shelf piece. Display it proudly!!
Good . . . . .$450.00 SOLD
Brown & Barry Patented Marking / Mortise Gauge
The Brown & Berry 5 stem marking gauge is one of the rarest and most unique of all patented mortise& marking gauges. The inventors must have had a lot going on in their minds or business to have come up with an idea for a marking gauge with 5 moveable stems. I imagine many potential users could not handle the concept.

Overall the condition is very nice. It had a light coat of protective finish applied 20 some years ago, but that will come off. Super rare, and few known!!!
Good + . . . . .$895.00
SOLD!
Patented Marking and Mortise Gauge
This is a rare twist lock patent marking gauge. The white residue comes of easily with any solvent.
The head has an oval shape hole that locks to the round bar with a twist. A neat idea.
Good +. . . . . . .$75.00 SOLD!
Patented Apl'd For Marking and Mortise Gauge
This is a rare patented marking / mortise gauge with several fences and moving bars. The condition is super.
Excellent . . . . . . .$195.00 SOLD!
2 Stanley # 77 Rosewood Marking Gauges
Both nice, and both complete. One is a sweetheart and one is earlier.
Left . . . # 77 Stanley Gauge . . . . . .$40.00 SOLD!
Right . . . # 77 Stanley Gauge . . . . . .$50.00 SOLD!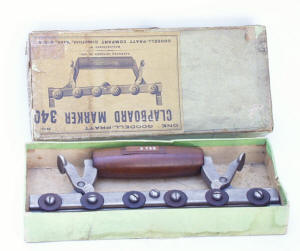 Goodell Pratt #340 Clapboard / Siding Gage
Here is a tool you use to see from time to time. They are also a tool that everyone use to ask what is that. I imagine if you handed one to a Vinyl siding guy today he would not have a clue. For making a perfect cut up next to the window trim or corner boards. Today they run that piece over the siding. I have never seen either Goodell Pratt's or Stanley's version in the box before. A rare example.
Fine . . . . .$195.00 SOLD
Millers Falls #88 Jointer Fence
This is in like new condition. .
Fine . . . . . .$50.00 SOLD!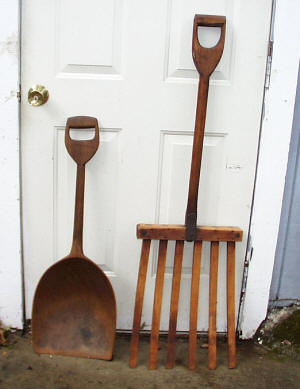 Primitive Shovel & Fork
The shovel is carved from 1 piece of wood. It is American, or at least was bought as such back in the 70's.

I am not sure of the intended purpose of the fork. Probably to lift some light material like hay into the wagon. It is in very nice condition and not a form you find or see very often. Neat!!
Shovel . . . Good+ . . . . .$250.00 SOLD!
Fork . . . . . . . Good+ . . . . .$150.00 SOLD!!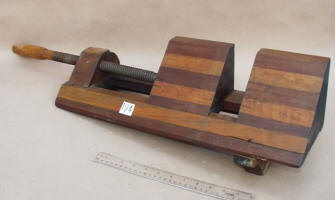 19th Century Mitre Jack
I bought this woodworking miter jack back in the 80's at an old couples house here in CA who invited us over. The collector bought it from me, and it was on display in their store for the next 25 years or so. It is nicely made of glued up stock, and not beat up or damaged. The screw works well.. They were used to hold work and for cleaning cut angles with a plane. A nice piece.
Good + . . . . .$90.00 SOLD!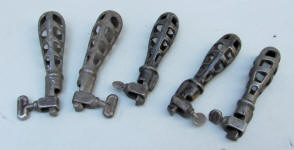 5 Cast Iron File / Tool Handles
These are handy little things. I use them on my workbench. Nice!.
Good + . . . . .$10.00 / Each ALL SOLD!!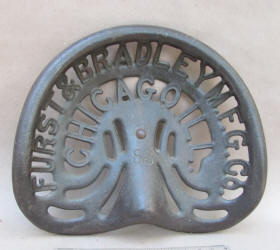 Furst & Bradley #83 Cast Iron Implement / Tractor Seat The reference i have on these lists this as a #10 on the rarity scale. There is a hairline through the center bolt hole but that ends at the first slots you see. A rare seat in pretty nice condition.
Good . . . . .$450.00 SOLD!
Book Binders / Leather Working Tools
At least one is marked. These were bought back in the 70's in the bay area and could have originated from there, or been brought to this coast by Dave Paling and sold here. There are 15 or more different ones. Most look to still be usable and not worn out. Tools like this were used to do leather book bindings and decoration on high end books in the 18th & early 19th century. Look at the pics to see close-ups of smaller groupings.
Good . . . . .$250.00 SOLD!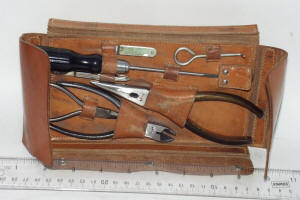 Western Electric Tool Kit This is a nice little set that i would imagine dates from the 20's or 30's from the markings on the Stanley screwdriver that is included. I imagine that this was a repairman's kit for radios, or telephones that Western Electric was selling servicing at this time. . It is not all beat up and it looks to all be here.
Good +. . . . . .$150.00 SOLD!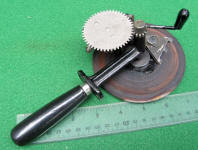 Rhodes Sales Company Razor Blade Stropper / Sharpener This stropper is by the same maker as the very common Kriss Cross that has the same basic action, but is a enclosed table top model. This is the very rare and unusual hand held version. It measures just under 9" long, and the disc is about 4" Dia. Rare!!!

Fine . . . . . .$450.00 SOLD!!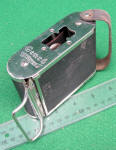 Genco Razor Blade Stropper / Sharpener
This one looks like a camera. Hold the strap on one end, and pull the handle on the other to make the leather strop inside go back and forth. The blade holder inside swivels back and forth as well. Now you just need to figure out how to get the blade in and out through the small opening in the side. Good luck with that too..
Fine . . . . . . $50.00 SOLD!!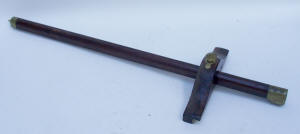 Stanley #85 Rosewood Panel Gauge
Unmarked as most were.
Good + . . . . . .$80.00 SOLD!!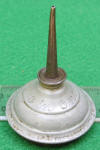 3 in One Salesman Sample Advertising Oil Can
I have never seen this one before. Check the other pics to see the embossed writing all around the Perimeter. Nice!
Good + . . . . .$60.00 SOLD!!
Patented Gem Oil Bottle by P D & Co.
RARE & unusual "GEM" Handy Oiler / Oil Bottle. The bottom is marked with the company name, P D & Co, or Payne Diehl & Co., patent date of 1880, and location Phila Pa. The front of the glass bottle is marked GEM. This is the same outfit that made the rare and collectible P. D. & Co. Egg Beater with the slinky like affair on the bottom. One of the rarest and hard to find of all oilers / oil cans / bottles out there. The condition is fine. The pics tell the story. Different & Nice!!
Good + . . . . . $100.00 SOLD!!
Goodell Pratt Hand Vice
Nice condition.
Good + . . . . . .$50.00 SOLD!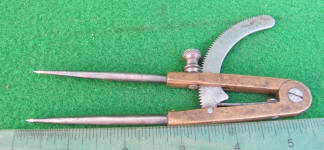 J. D. Wilkinson 1887 Patent Quick Adjust Dividers
The condition is very nice. Lift the spring loaded curved steel bar to allow the leg to quickly rough adjust, then fine adjust with the thumbscrew. A neat design.

The patent info is clearly stamped into the brass body as can be seen in the pics. The patent # is 364561 and the patent and a few other references to this early and unusual tool comes up easily using Google. A fine addition to the early Machinist tool collection.
Good + . . . . .$150.00 SOLD!
Goodell Pratt # 29 1/2 Jewelers / Polishing Lathe
Good + . . . . .$150.00 SOLD!!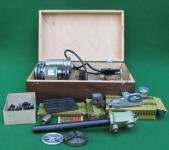 UNiMAT SL1000 Lathe w/ Vertical Attachment, Milling Table, 3 Jaw Chuck & Tooling
This is a nice UNiMAT / SL 1000 Lathe. In addition to the lathe and original box, all the extras / accessories pictured above are included. Most of the accessories are in their original boxes that look to have never been used. It runs like a top. Again, everything you see in the pics is included. There is the milling table, vertical attachment, speed reducer or enhancer, 3 jaw chuck, and two other face plates, a vice, NOS cutters etc. Perfect for the gunsmith, jeweler, or hobbyist.
Fine . . . . .$850.00 SOLD!!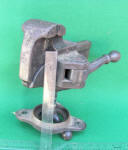 Stephens Patent Lever Action Quick Vise
This is an unusual quick action vise that you do not see very often especially in this large size w/ 4" jaws. It is complete, operates properly and tightens well when the lever is pulled after getting it close. The swivel base is present and OK. The jaw is not spring loaded / operated.
Good +. . . . . .$150.00 SOLD!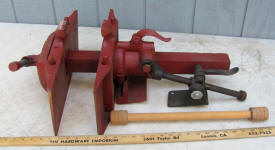 Emmert Turtle Back Pattern Makers Vise
It look OK, but has a few issues and is being sold AS - Is for Parts or restoration. First off it has the tilt bracket, but it has been brazed. (see pic) The inner jaw shows an area where it has been repaired along one edge. The inner face looks fine and is smooth, but you can see evidence of the weld / repair on the outside. (see pics). After you take off the turtle back cover you can see broken parts there as well. I am not sure what this part is called, or if the break would affect usage. Again, see the pics. If this does not sell as a unit I will be breaking it down and selling it piece by piece later on.
Fair . . . . . .$250.00 SOLD!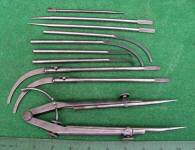 Starrett No. 85 Extension Dividers w/ 4 Sets of Legs
This nice looking set is stamped with the 1885 patent date and the Starrett name. There are 4 matched pairs of legs, and one extra. Nice!!
Good +. . . . . $150.00 SOLD!!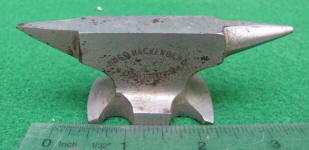 "Hugo Hackenberg Dortmund" Miniature Cast Iron Advertising Anvil / Salesman Sample / Paperweight
This unusual miniature double point nickel plated cast iron anvil is stamped with info on one side. Running that in Google turned up one example in a European auction. It is old and legit. I guarantee it!! A nice piece!!
Good + . . . . . $150.00 SOLD!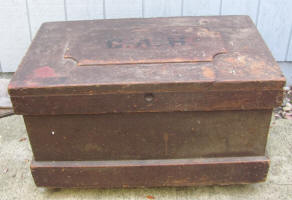 19th Century 4 Tray Carpenters Tool Box w/ Dovetailed Corners
This is a very nice early carpenters tool box.
The raised panel top is marked in painted / stenciled letters C.A. H. with a second border color for a halo effect to create a dimensional look.

The outside has seen some wear, but is in overall very nice condition. The bottom is not rotten and all the dovetailed corners are solid. Inside on one side are 3 layered trays. Next to them is a fitted tool caddy w/ handle to carry what one needed to perform tasks at hand for the days job. At the front is a deep tray for a level, saw and square. Under that is another hidden shelf for another level or similar. In the bottom portion there is a built in divider / rack to hold molding planes along one long edge.. There were 16 molding planes in the box, plus a plow plane, and one long jointer when I got this box in. Those planes are being offered separately elsewhere on the tool pages.

Most of the other tools seen in the trays are being offered on separate pages as well. The price is for the box and trays. This can be shipped Fed-Ex, or I can deliver it for a reasonable amount at some point down the road. A fine box that will display a small collection very nicely.
Good + . . . . . $225.00 SOLD!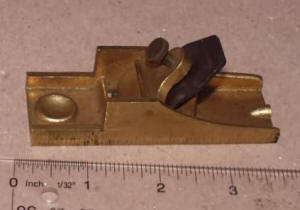 Brass Dental Plane
I have seen this mini brass plane offered for sale a few times over the years, both at auction and on eBay. I can not seem to find any published info on it, and I do not think it is in Roger Smiths books. It is thought that they were made for the dental profession for sizing or trimming of dental molds. It is an interesting and nicely made little block plane with ruler increments in 32nds of an inch cast or scribed into the different sides. The cutter is unmarked, and there is no other ID to be found. Different, and Unusual.
Good+ . . . . . . . $125.00 SOLD!!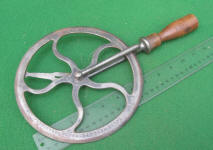 Antique "Little Giant" Blacksmiths Traveler
A manufactured example with the name "Little Giant cast into the frame. Different!!
Good . . . . . $45.00 SOLD!!
Stanley #138 Level Sights
The sights are nice. They date from the Sweetheart era are are stamped with that logo. They were meant to fit either wooden levels or metal levels. The box is worn and torn.
Good + . . . . $20.00 SOLD!!
Goodell Pratt Double Stem Marking Gauge Nice overall condition after a good cleaning. The roller cutters are nice, and all increments are clear. A good user. Nice!!
Good . . . . . $40.00 SOLD!!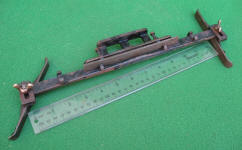 W. E. Gibbs Jointer / Saw Sharpening Tool
Nice overall condition noting the fragile paint that is beginning to peel off. That
remaining paint is a testament to how little use this saw. (get the pun there) It is an earlier model with just one patent date from 1914 and Patent Pending. Later models have a second patent from 1917. I have read that the earlier ones are better made. A few minor spots of pitting on the swivel arms. Unusual & Nice!! Ready to go back to work.
Good + . . . . . $245.00 SOLD!!
Wodack Electric Hand Saw Chicago Ill.
There is little info to be found on this early wormdrive skilsaw online. There is a you-tube video of one running, and they refer to it as the "Junior". I think Beastie would be more appropriate. I did read that Dewalt bought them out. The ID tag has a wealth of info stamped on it. The capacity was over 4" meaning it has a 10" blade in it. It was made by Wodack Electric Tool Corporation and was distributed exclusively by F. L. Rogers of Chicago / New York.

It is being sold as is. No guarantees or warranties of any sort. It does run. I plugged it in even with that funky cord. It about jumped off the table. The switch is not working. It is in direct drive. Be forewarned. It sounded a bit archy but did run. Note there is no safety guard. What you see is what you get. A great addition to the next hot collector group - - early dangerous electric tools. Different!!
Good +. . . . . . . $75.00 SOLD!!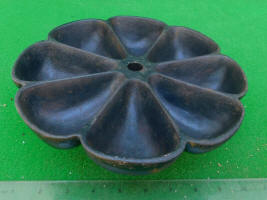 Cobbler's Cast Iron Revolving Nail Cup
Unmarked, but it is nicely done and a vintage piece not one of the new knockoffs. Unusual & Nice!!
Good + . . . . . $75.00 SOLD!
C. S. Osborne Pinch Clamps
Three different sizes. Probably a dozen or so. Useful in the right situation. Nice!!
Good + . . . . . . . $25.00 SOLD!!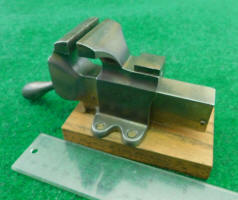 Miniature Nickel Plated Quick Action Vise
Nice original condition. Similar to, but different from the typically seen Stephens Patent quick adjust vise that has the lever on the side. This unusual miniature vise has its quick action lock lever directly in front. You pull it up and that unlocks the vise so it can be pulled out. You can then slide it back in hearing and feeling the fine toothed ratchet built in working. When you are close to tight a final push down moves it in a bit more and locks it. Kind of neat. It is well made and works well but is unmarked as to maker. While I have seen dozens of the Stephens Patent Vise this is the first of this type quick adjust vise I have ever encountered.
Good + . . . . . $295.00 SOLD!!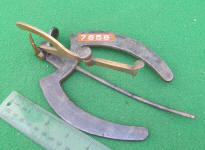 John Hood / Boston Farriers Horseshoe Gauge / Tool
I have been told getting horseshoes to fit properly on a horse is an art. This 19th century device was supposed to take the guesswork out of it. Unusual & Nice!!
Good + . . . . . $75.00 SOLD!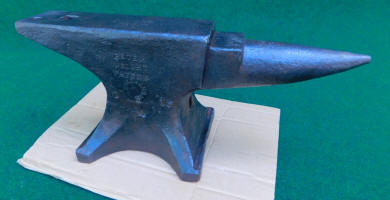 Peter Wright 69 lb. Blacksmith Anvil
Nice original condition. Just over 18" long and 8" tall. Clean clear name & weight stamp. Good edges. No cracks or damage. Nice!!
Good + . . . . . $350.00 SOLD!!
This is just a sample of the many antiques & collectibles we have sold.
Click link to see other Sales Archive Pages on this Site.
We can help you sell quality Antiques Contact Us.

For further info on consigning / selling your antiques with us please see our FAQ page, the Appraisal / Selling Page and the Selling Your Collection Pages.

Our current offering of Antiques for sale are at our sister Website Patented-Antiques.com.
This website is Copyrighted
(1998 - 2015)
Larry & Carole Meeker