We can help you sell your antiques and collectibles related to our primary interests. We deal in, buy, sell, and collect many antiques and quality vintage collectibles in specific categories discussed and outlined on this website.
Our antique related internet websites are primarily devoted to helping sellers realize the highest possible value for their antiques through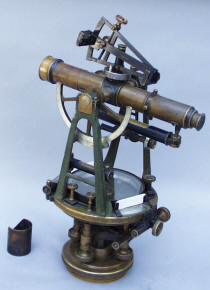 consignment sales. We have two websites. You are currently at www.AntiqBuyer.com, our informational site, and our antique sales website is www.Patented-Antiques.com.

Consignment sales are becoming the dominant method of antique selling antiques for many antique dealers and antique related venues including auction houses, malls, shops, and other antique related websites. The typical antique stores that remain in any given area are now trying to claim they offer this type of service. Those sales are typically to a very limited and localized audience and not to a worldwide audience our antique sales websites cater to.

Carole & I are a husband and wife team that are focused on, and devoted to giving individual attention to each consignor and item. We do not farm out the photography, the write-ups, marketing, the book-keeping, or any other aspect of our operation. We do it all. We conduct our business primarily through the internet, and we do it well. In addition to our website traffic we have a sizable client mailing list that we can offer select pieces to privately for top dollar. We are mostly interested in higher quality rarer pieces as opposed to volumes of "stuff", but can discuss any or all pieces or situations with prospective clients.

In a consignment sale situation, both the owner / you / original seller, and me, the end seller, are working together to realize the best price for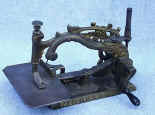 your antique or collection. It is a mutually beneficial approach and is the way of the future in antique sales.

This approach eliminates the adversarial position in the typical buyer / seller situation with me trying to buy your piece or antique collection as cheaply as possible in an attempt to realize the lions share of the profit or proceeds. It also eliminates the uncertainly and hassle of the auction approach with wildly fluctuating prices and uncertainty involved in that venue. In a consignment sales approach, you the seller realizes his / her asking price, or nothing happens. If there is no sale, there is no fee or cost to you the owner, and no commission fee. A win-win for the seller.
I can and will help you sell your quality antiques on a consignment basis from our sales site www.Patented-Antiques.com or I will list your antiques on eBay for you if that is the way you want to go. I use the ID TheAntiqueMerchant at eBay when I sell there.

If you have antiques you are interested in selling, and want us to help you sell them please contact us at AntiqBuyer@gmail.com with all pertinent details and we will happily discuss it with you.
I am currently selling a large and diverse collection of antique tools (over 15,000) for one consignor, and we are handling another antique

collection related to general store and advertising for some folks in OR. We are also currently handling a collection of over 3000 sad or pressing irons for another consignor. We are also selling over 300 antique and collectible sewing machines for yet another party on consignment. We recently sold 2 collections of Bootjacks for consignors, another collection we sold focused on antique mine lighting and more. In addition to these large and small antique collections we are also helping numerous individual sellers sell individual antiques and collectibles related to our many areas of specialty.

These arrangements are working out well for all parties, and there are many advantages in taking this approach for you the seller. There are certain restrictions and standards to be met. Please see the FAQ page for more info on this.
What We Buy & Sell
The Short Answer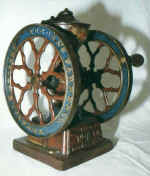 We primarily deal in, buy & sell patented and mechanical American antiques. This includes Tool and Technology related antiques, Scientific related antiques, antique Advertising, General or Country Store antiques and antiques commonly referred to as Americana. We call it Americana with a purpose.

If you have antiques and collectibles that fall into these groups or criteria and want help selling them please contact us and we will work out some sort of a deal, or negotiate a price we can both live with. That is the short and simple answer.
The Longer Answer / Appraisals / Offers
If you have an antique or antiques that you feel we would be interested in but do not know what you want for your antique, or are just
curious as to its value while researching your antique, please read the FAQ page for further information before contacting us about your antique(s).

For general information about your antique and its value you can use the many resources available on this site, including the Patent Date Chart reference provided to help determine the age, and tell you the pieces function or design ideas. You can find numerous values for many antiques using the info provided in the different Past Sales Archives found in the right column. As of 2015 many of the values have been removed from the past sales archive pages. For a full explanation of why, please see the FAQ page.

You can also research values at our sales website for antiques www.Patented-Antiques.com to see what we currently have listed for sale and what we are trying to sell those antiques for. You can also check current asking prices for given antiques by checking eBay current listings and by looking at completed sales see what they actually sell for there. It is important to note that is oftentimes two completely different numbers. There is also the outfit called Worthpoint where to see past sale results spanning over the years on ebay, all you have to do is give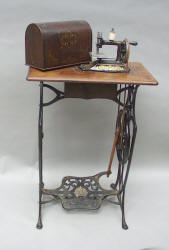 them your credit card info. Many results found there are past prime though and do not reflect current values.

If you still do not know the value, or do not have the time or inclination to do your own research, you can determine a value by simply paying the nominal sum charged by an online or other antique appraisal service. There are many services or individuals that can and do provide this service for a reasonable fee located on the Internet.

I offer appraisals as a paid service and if interested please see the FAQ page for further information. In general I do not respond well to casual requests / demands for what is my XXX worth without complete information, and some sort of an indication you read this page or reason given for me to do that for free.
NOTE: We have a standing offer to fully reimburse you for the reasonable appraisal fee you paid should you offer us that antique, and we buy it.
Offers for Antiques
Consignment sales not for you? Want a quick sale or an offer for your Antique? Read On.
If you want to sell your antique but cannot name a price, and you want me to make you an offer, I will
But there is a catch.
After determining I have an interest, from the detailed information you provide, we will arrange for you to ship your piece to us. After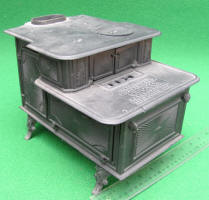 examining it and determining its real condition and determining a reasonable value I will make you a fair and reasonable offer. If you are not happy with that offer I will re-pack it and send it back to you at my cost. Or I will try and help you sell from my website for the amount you did have in mind, if within reason and neglected to reveal when you said you had no idea what you wanted for it and wanted me to make an offer. You will be out some time and the cost of shipping one way if you have me ship it back to you. You get a free appraisal and an offer for the cost of shipping one way. Fair enough? Contact me if you want to go that route. I am just an email away. AntiqBuyer@gmail.com.

Don't like the sound of that? Put a price on it and lets go.
We can help you sell quality Antiques Contact Us.
For further info on consigning / selling your antiques with us please see our FAQ page, theAppraisal / Selling Page and the Selling Your Collection Pages.

Our current offering of Antiques for sale are at our sister Website Patented-Antiques.com.
Thank You!
Larry & Carole