We can help you sell Antique Patent Models, Salesman Samples and Models of Antique Farm Equipment and related Farm Antiques!!
Salesman samples or patent models of farm machinery, windmills, and other small models of farm implements and tools used on the farm are of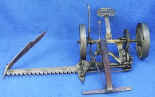 special interest to us. These salesman samples are currently very popular, demand is high, and their values have skyrocketed in the past few years. I have had and sold some of the very best, and I will share with you some pictures and info about some of them to give you a better idea of what we are seeking or can help you with.
Just above is a very detailed and well constructed salesman sample / model of a Jones Field Mower (the name can be seen in the cutout letters in the cast iron seat). I have seen other versions without the cut-out seat, and the name and patent info on the main frame. I have had this model's full size cast iron seat before and you often see examples of full-size mowers gracefully parked in front of old time farm hay fields along the highways and back roads of rural America. These full size implements can be had rather inexpensively if you have the room and means to move them. Most date from just before to just after the turn of the century.

These farm models / salesman samples on the other hand seem to be worth somewhat more with almost all examples selling in the low to mid 4 figure range, and a fewrare variations reaching 5 figures. We would be happy to help you with yours if you have one, please do contact us at AntiqBuyer@gmail.com .



On the right is a very detailed model or salesmen sample of what is called a Hay Tedder. It has a series of wire prong articulated arms that move up and down and in and out at the same time. It is unmarked as to maker. This salesman sample hay tedder exhibits a degree of craftsmanship and detail rarely seen in today's world. These devices were used to stir or fluff mown hay as it was drying in the field and before it was baled. Today I think they cut, blow dry, and bale it all in one operation and with one machine in one operation. Times and methods change.

This model was purchased from one of the largest and best known auction houses in America a number of years ago. It was an example of the right piece being sold in the wrong venue at the wrong time. It sold for under 500 that day. In today's market it would probably sell for 2500 - 4000 on a good day.

Models such as this were made to show the rural farmer the latest in technology and were carried around by traveling salesmen or used as storefront window displays in an attempt to persuade the farmer that he needed an implement just like it. The detail and precision exhibited in these different farming related patent models, farm machinery models or salesman samples of farm machinery would have been sure to impress the early country farmer when the traveling salesman pulled it out of its case to show his prospective customer. Door-to-door sales was the norm as most means of mass advertising did not yet exist or were unavailable to the rural populations.

The device on the left is a salesman sample or model of a Hay Fork from the late 1800's.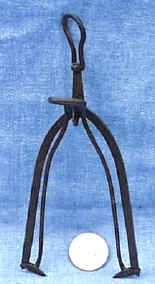 There is patent info engraved in stylistic font on the legs telling the important details such as the date and the inventor's name. This is one of those pieces that looks like a patent model, but because of the information that is inscribed into the arms on the actual piece, and lack of papers or patent tag, it is in reality a salesman sample or model for other purposes rather than the actual patent model that was submitted to the US Patent Office for a patent.

It seems too small to have been very impressive for a salesman to be carrying around to show to prospective customers, but the detail and construction of this little hay fork model are very nice, and whatever the original intended purpose, it is evident that the creator was proud of his invention / device, and wanted the viewer to be impressed as well. This exact design of this miniature hay fork can be found full size, and the patent is real, so the idea was in production and it was utilized. A model like this would typically sell for several hundred in most venues.



Sometimes you find things that you just know are patent models either from experience, circumstance, or by the size and construction details, just plain intuition, or ? but without a tag or other documentation it is a near impossible thing to prove in most cases.

I have been to auctions where tables full of tagless patent models were offered. The simple fact is that these models get separated from their information, as in the case of the device pictured here on the right. Although it is very well constructed, and has the proper details, size, look, and feel of a patent model I can't figure out what it was made to represent or do. It looks to be some sort of a farm machine for separating seed or something like that, other guesses were a sort of water turbine. I know it is a patent model, but could never prove it, even if I found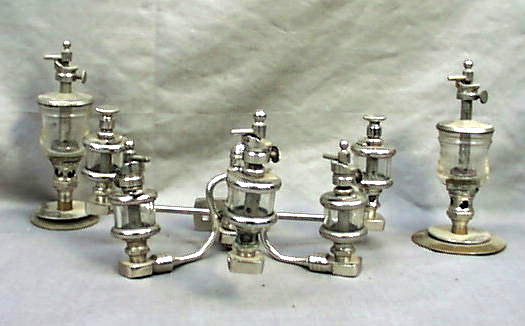 the patent info. These tag less models are fun and are saleable in this state, but without proper documentation and the original patent tags the value is minimal and typically such pieces top out at 100 - 200.

I have had and sold a number of models like you see above, and some examples are shown in the past sales archives linked below and on the right. Such salesman samples and models are desirable and interesting pieces that I would love to help you sell or buy outright if you have one or know where some are.
Click this link if you would like to see past sales results for Salesman Sample Farm Machines. Past Sales Results for other types of Farm Related Antiques are linked on the right under tools.
If you have similar antiques you would like to sell, please contact us at AntiqBuyer@gmail.com with details.
Farm Tools / Wrenches & Other Patented Devices from the Farm
We Can Help You Sell Antique Farm Related Antiques!!
Rope Winders
We are also active dealers in other unusual antique patented and mechanical devices used on the farm, in the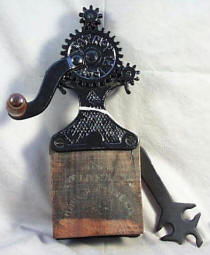 fields, and farmhouses of early rural America.

Antique and vintage farm related devices like rope winders / makers are a good example. A typical and pretty common patented and manufactured version made of cast iron & wood is shown on the left. There are all cast iron versions and all wood primitive versions that can be found as well. They are 3 strand, 4 strand, 5 strand, and more versions that can be found. I have seen collections with at least 50 different versions of rope makers in them. Other examples of rope winders as well as many other farm related antiques we have sold over the past few years can be seen at the Past Sales Archives whose links are on the right.
Click this link if you would like to see past sales results for Rope Winders / Makers. Past Sales Results for other types of Antique farm related tools are linked on the right.
Hand Held Corn Shellers
I am also interested in buying antique hand held corn shellers and can help you sell them on consignment. There are so many different shellers available and so much interest that an entire book has been written on them. come in a myrid of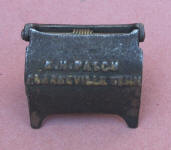 different sizes shapes and forms. They are such a popular collectible that a book has been published about them. The smallest of these are known as popcorn shellers. One hard to find version is pictured on the left. It is a A. H. Patch popcorn sheller. This outfit made a number of other size and design corn shellers as well.

Some unusual table-top or bench mounted corn shellers are also good. We do not typically deal in large floor model corn shellers because of the size and weight factors that are involved. There are a few of these large early shellers that are very rare and sell for a lot of money. One example would be the corn sheller patented by the prolific inventor Rufus Porter a designer who also made / designed a great inclinometer / level.

Antique hand held shellers like the one pictured on the right known as the .50 Cent Sheller are a good example of the type we do deal in. The name of this cast iron squeeze type sheller coming from the fact that is what it cost when
new and that info is cast into the body. It is from Ohio and dates from the late 1800's.

Hand held shellers come in a variety of shapes and sizes, and some are hard to recognize. Occasionally people try and sell things like fish scalers, meat tenderizers or shoe shine brush handles as corn shellers.

Hand corn shellers were generally used to separate seed corn from the cob that was used for starting next years crop. So, they were for seed corn as opposed to feed corn. It was a process where you saved the best corn kernels from an ear of corn as opposed to larger shellers used for feed corn where you just feed the whole ear into the opening and the machine would strip all the kernels for feed. The earliest versions were first patented and manufactured on the East coast, and later as farming spread to the Midwest many shellers were introduced and patented from that region as well. They are such a popular and valuable collectible that there are reproduction shellers being made and offered for sale of some of the rarer models.

Of the larger table mounted varieties there are several very common ones, like the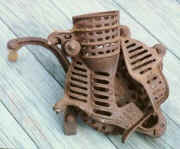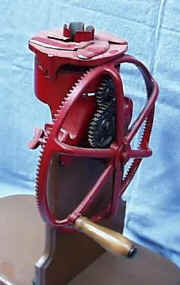 Black Hawk pictured on the left, and the similar looking Red Devil. Shellers that look like this are generally more common. Some of this style sheller had what are known as knubers to knock of select kernels for feed, but they were basically a feed it in and go sort of corn sheller.

Different larger corn shellers of interest would include shellers with names like the Right Speedy or the Peerless, or ones that are much smaller and aimed at popcorn size kernels. The red sheller to the right is an example of a desirable form larger mechanical corn sheller. This style sheller was used to make feed for the yard animals on small farms, and made little distinction between the large and better kernels for planting and the small stunted ones at the ends of the cob that were generally used for feed.

We also can help you sell and are interested in buying authentic windmill weights, steam whistles, unusual adjustable wrenches or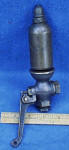 buggy wrenches, and many other farm related antiques. We sell cast iron tractor seats with names cut out or cast out in the

seat like the Stoddard shown on the left. We buy & sell a lot of other types of vintage and antique tools, stove pipe warmers, pressing iron trivets, that have this cutout letters feature within the casting.
Click this link if you would like to see past sales results for some of the hand held and table mount Corn Shellers we have handled.
If you have similar antiques you would like to sell, please contact us at AntiqBuyer@gmail.com with details.
NOTE: I do not buy full size farm implements, or floor model shellers, I simply do not have the room or means, and have little or no information about them.
If you have farm related antiques described above to sell please contact us. If you are looking to buy these types of antiques, please visit our sister site www.Patented-Antiques.com where we conduct our internet antique sales from.
Antique Wrenches
Buggy - Patented - Mechanical - Quick Adjusts - Cutout & More

We can help you sell unusual and patented antique wrenches that date from the early to mid 1800's right up to about 1930 or so.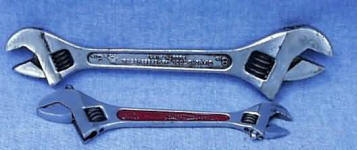 We also deal in antique adjustable buggy wrenches and other buggy wrenches with names embossed in them or with cutout letters.

We are interested in patented pipe or monkey wrenches that have unusual quick adjust features from the same basic time period, the mid 1800's to just after the turn of the century. We also buy and sell small vintage 4" and 6" adjustable bicycle wrenches that have unusual patented features such as pumps or spoke tools incorporated into the design. And finally we are interested in any and all wrenches that have names "cutout" in the hadle like the International Harvester or Bradley's Wonder cutout wrenches that we have pictured just above on this page.

If you have any antique wrenches that fit these simple requirements, and you want to sell them, please contact us at AntiqBuyer@gmail.com with complete details including a picture, the size and any other written information that is on them, and we will get back to you ASAP

What we do not buy are old broken up, rusty, common wrenches that do not fit any of the simple criteria we have mentioned above. And guess what, without a picture or a really good description, we are probably not going

to be able to tell you if are interested in your wrenches or not, so please give us as much info as you can. We are going to need to see it and know the condition that it is in to be able to decide how much it is worth. We like collectible antique wrenches with features like the swivel head feature pictured here. There are a number of variations on this theme. Up and down back and forth, and old wrenches like this can come in sizes from 4" long to 20" or so.
We buy and sell small bicycle wrenches that date from near the turn of the century when the bicycle was first being introduced and promoted in America. The selection of these interesting and well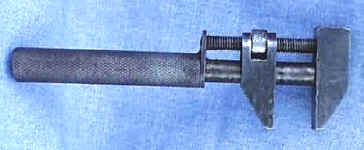 made little gems is mind boggling, and when compared to the stamped out piece of nothing that they hand you today with your new Chinese bicycle, it makes one shake his head in wonder.

The bicycle wrench above may look like the rest, but it is different with the adjustment feature on the backside, and has the great feature of a picture of a high wheel bicycle logo stamped into the head. Please send a picture or scan of any nice or unusual antique wrenches that you want to sell. Some of these bicycle and other wrenches are worth no more than a few dollars, while others are worth $200 or more.

Another category of vintage wrenches that is of interest and that we are always buying are commonly referred to as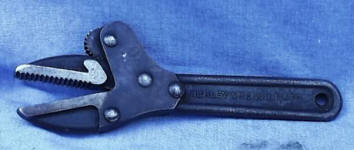 quick adjusts. These old wrenches come in all different sizes and configurations and many are common, but others are very hard to come by. Most quick adjust alligator style wrenches like the one to the left are not common. This particular model is very late as far as wrenches go (post 1900) and is from the West Coast. A similar model quick adjust alligator wrench is named the Shark.

We want to help you sell your antique and collectible wrenches, but again, we cannot help unless you provide me a decent picture, or at a minimum a full description.

Antique Buggy wrenches are also of interest and a popular collectible with cross over appeal. These are usually recognizable buy the

square nut holder on one end. There are hundreds of different varieties of these in both fixed and adjustable models. The fixed one on the right is a Studebaker, which is from the fellow who first made his fortune here in Placerville, California supplying early miners with his new improved version of the wheelbarrow, and then went on to further fame with his buggies in later years.
Note: I have what has been purported to be a Studebaker Wheelbarrow listed for sale on our sister site www.Patented-Antiques.com SOLD!!
Adjustable buggy wrenches come in an array of variations and sizes. We are particularly interested in buggy wrenches that have any oil can or oiling feature incorporated into their design. Other desirable designs have twist handles, are lever actuated quick adjusts, or even self adjusting. There were so many different buggy wrenches patented and produced during their hey-day spanning roughly from the early 1800's to the turn of the century that it would be nearly impossible to put to memory all the names and features of a given wrench and to be able to match those dates and names with the name of that wrench w/o referencing to a book or the patent. In other words, even if we recognize the name or patent date of your wrench that you want to sell we will still need to see it in order to be sure that we are in fact both talking about the same wrench.



Another category of vintage wrenches that are of interest are known as combination wrenches. Those that combine more than one function into their design. Examples abound of these unusual devices with the most frequently found being those that have both hammers and wrenches, or drill / braces and wrenches, or those that are both a boot jack and a wrench, or some that incorporate a wrench and a knife in the design. The example on the left is called the Prince, an unusual patented brace / wrench which was patented right near the turn of the century. There are several other varieties of this wrench that are available the most common being the Lowentraut which you often find just half of as it just pulled apart instead of being bolted together as this one is.
If you have any interesting and in good condition farm related antiques that are similar to those that I have pictured on this page you want to sell please contact me by email at AntiqBuyer@gmail.com .
Click this link if you would like to see past sales results for Antique Wrenches. Past Sales Results for other types of Antiques are linked on the right.
To see farm related and other antiques that I have for sale now please go to our sister site at www.Patented-Antiques.com. and visit the numerous sale pages you will find there.